U.S. Army (Ret.)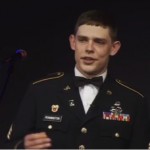 Field Representative, East
National Spokesperson
Raised in both Maine and Texas, Matthew Pennington entered into military service at the age of seventeen; he had a robust career full of responsibility and leadership roles. Then at the age of twenty three he was struck down by an ambush IED team in Iraq. Losing his left leg and receiving severe damage to his right he was honorably retired and received the Purple Heart and the state of Maine Silver Star among various others.
Matthew has starred in a short film "A Marines Guide to Fishing". It is story that portrays an injured veteran's transition back into the work place as well as coping with his loss one year later on his alive day.
Prior to acting, Matthew gave a speech for veteran's day in the town of La Plata, Maryland as well as campaign videos for Senator Susan Collins. He has served on a panel for Secretary of Defense Gates at Walter Reed and received many of other types of recognition for his service to America.
Matthew has worked alongside director Nick Brennan and Marjorie Pennington to perform screenings of "Marines Guide to Fishing" to raise donations for charitable organizations serving veteran's. It was creating these environments of entertainment and education that led him to further his speaking career as a Keynote Speaker for the Brain Injury Alliance, Joining Forces, various Military-Civilian conferences and Universities. Matthew has built a program that was endorsed by Congressman Mike Michaud and it has been replicated by the Vet Center's located within Maine and has been reported to have great success.
Currently Matthew is a part-time National Spokesman/Field Associate for the Coalition to Salute America's Heroes, it is a job he believes in and also one that allows him to witness and hear about the positive impact made in the lives of the combat wounded.