CSAH Awards $25,000 Grant to Boulder Crest Retreat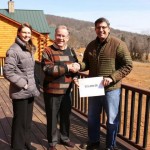 Donation to new Virginia facility to provide therapeutic services for wounded warriors.
The Coalition to Salute America's Heroes (Coalition), a leading not-for-profit organization dedicated to rebuilding the lives of severely wounded veterans of the War on Terror, today presented a $25,000 grant to Boulder Crest Retreat in Bluemont, VA. The grant will fund the construction of a therapeutic fishing pier at the new retreat being built for veterans seeking physical, mental and spiritual recovery from the wounds of war.
"In some cases, the most meaningful thing we can do for the brave men and women returning from the War on Terror is to give them a sanctuary for healing," said David Walker, President & CEO of the Coalition to Salute America's Heroes. "That's exactly why we are supporting Boulder Crest, which we believe will become one of the premier retreats of its kind in the world. We're thrilled to be of assistance, and we intend to direct many of the wounded warriors we serve to their facility."
In recognition of its support, the Coalition's name will adorn the retreat's fishing pier, which isexpected to be complete in May. Boulder Crest Retreat will feature four handicap-accessible cabins, a meeting house, organic gardens and trails, a pond and bird sanctuary, and a workshop. The retreat will provide wounded military and their families with a scenic and peaceful environment to spend time with each other while enjoying activities such as nature walks, yoga and meditation classes, as well as off-site excursions. Read More