Assistant Director and Senior Team Leader- HTH
Juan joined the U.S. Army in May 2002 after working construction for the Detroit Carpenters union for 7 yrs. On his second deployment in Iraq 2005, he was preparing for a Reconnaissance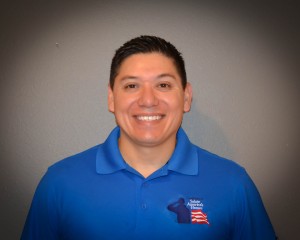 mission to downtown Baghdad when he was struck in the left eye by a foreign object.
As a result Juan was thrown nearly 10 feet from his Bradley Fighting Vehicle rendering him unconscious. The blunt force trauma to the eye caused blindness, damage to both shoulders and severe trauma to the head. Juan was immediately air lifted to a secure location outside of Baghdad. Later it was determined while in Germany that his injuries needed special attention available at his Home Post at Ft. Carson, CO. Since his injuries Juan has undergone surgeries for his shoulders, and extensive Physical and Mental therapy for his TBI and PTSD.
Juan briefly returned to school earning a Bachelor's degree in Criminal Justice from Colorado Technical University and also worked in various jobs from a car salesman, Logistics specialists, brief Colorado Marshal and Mentor for Teen Court.
Today Juan is employed with The Coalition's 'Heroes Thanking Heroes Program' as Assistant Director and Senior Team Lead. Through this program he serves as mentor and helps provide support to over 50 representatives who make thank you calls to the supportive donor's, both past and present. Juan has also participated in events which help raise funds and awareness for the needs of CSAH families. Juan's story is one of perseverance in which others can look at for a model when they are experiencing similar situations.
Sgt. Perez (Ret.) has 5 children and lives in League City, Texas with his wife Christy of 10 years.