Ramp Construction for Wounded Warrior.
Volunteers from local companies band together to assist veteran and his family.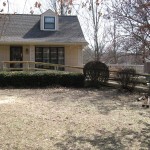 U.S. Army Sgt. Keith Hale was severely wounded in June 2010 while on his second tour of duty in Mosul, Iraq. Upon his release from the Warrior Transition Unit at Fort Campbell, he was rated 90 percent disabled. Though a custom-built house was constructed for Keith, his wife TiAnna and their children, interminable paperwork delays from the Veterans Administration prevented the Hales from closing on their home loan.
Faced with the prospect of homelessness, Keith and his family were forced to move into his mother's house while waiting for a simple letter from the VA qualifying him for a mortgage loan guarantee. Unfortunately, her home was not wheelchair accessible, and Keith needed a ramp to enter and exit. Again, the VA was unable to authorize funds to build
the ramp in a timely manner.
Enter the Coalition to Salute America's Heroes.  Read more