Award winning actor Jack Scalia, a Brooklyn native, was an All-American athlete in high school, playing three sports through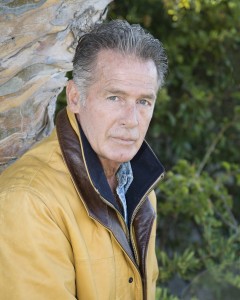 college. In 1971 he was the # 1 draft pick for the Montreal Expos and the 3rd overall( winter draft).He has competed in four triathlons the prestigious " Liberty to Liberty", run in four marathons that includes the Boston Marathon with an impressive time of 3 hrs 7 min 32 sec.  He took advantage of his muscular build and macho good looks by modeling with Armani, later joining the Ford Modeling Agency and signing on as the "Jordache Jeans Man" and the "Eminence Brief Man".
In January 1980, Scalia made the transition into acting, which led to his first film role in the mini-movie, The Star Maker (1981), starring the late Rock Hudson. Scalia got his first taste of series stardom as an unshaven, rough-and-tough detective who joins forces with his slick and debonair father (Hudson again) in the TV series, The Devlin Connection (1982). Though the series had a short life, Scalia received scads of attention.  His more popular telefilm credits included I'll Take Manhattan (1987), Ring of Scorpio (1991), Jackie Collins Lady Boss and was nominated as Best male actor in a mini-series by the American Television Awards (1992)". He starred in the Iconic series Dallas"(1989) in which he received a best supporting actor in the"Soap Awards Primetime"  More recently, he returned from living in Rome, Italy while filming a remake of his American TV series, Tequila and Bonetti (1992). His tele-film credits include Casualties of Love: The Long Island Lolita Story(1993). playing infamous tabloid newsmaker Joey Buttafuoco, with Alyssa Milano as his teenage object of desire. Though Scalia never scaled to the heights of a Tom Selleck or Pierce Brosnan with that one smash series, he would headline a near-record eleven TV shows that kept him constantly in the running. 2001, he joined the cast of All My Children (2001-03) for a time and received a daytime Emmy nomination in the process.  Scalia co-starred in the Big Screen hit "Red Eye" (2005) starring Rachel McAdams Directed by Wes Craven also "End Game" starring Cuba Gooding ,Jr.  Director Andy Cheng. He's also been an active hero and villain in Indie thrillers such as "Under Oath"(1997) Dir.David Payne "Charades"(1998) Dir. Stephen Eckelberry. "Act of War"(1998) Dir. Robert Lee, "The Genius Club"(2006) Dir. Tim Chey, Finishing the Game: The Search for a New Bruce Lee (2007) Dir. Justin Lin. He made his stage debut as the lead  Jungle Graziani in the Pulitzer Prize Production-nominated play, "Red River Rats"Dir. John Pieplow, in Los Angeles.  In The tall, dark and hirsutely handsome Scalia has remained a durable "ladies' man" and "man's man" for over three decades.
In 2009 Scalia was cast as USMC Col. Sean Williams in "Black Tulip" to be filmed in Kabul,Afghanistan. "Black Tulip" was written, produced and directed by author Sonia Nassery Cole. Throughout the three month filming his off time was spent time visiting the men and women in uniform at Bagram Field, USMC Security Marcent at the American Embassy, and FOB(Forwarding Operating Base) Camp Phoenix. He was the MC and participant of the Santa Barbara Navy Leagues "Welcome Home 3/5 Marines and families" three days(9-11/2012) . Scalia has been the Keynote speaker at USArmy Fort Drum home of The 10th Mountain Division, for four days(2012), USArmyAlaska(Arctic Warriors)  Elmendorf  AirForceBase(2012) four days and speaker 2 days at MiraMar Marine Corps Air Station Mag-16.
He is presently an Ambassador for the Coalition to Salute America's Heroes that is a  501c3 which is dedicated to making the lives of Our Wounded Veterans returning home and their families to be better prepared for the challenges that lie ahead. Helping and assisting Spiritually, Physically,Intellectually, Socially and Emotionally.  Their mantra is "Mission Before Self".