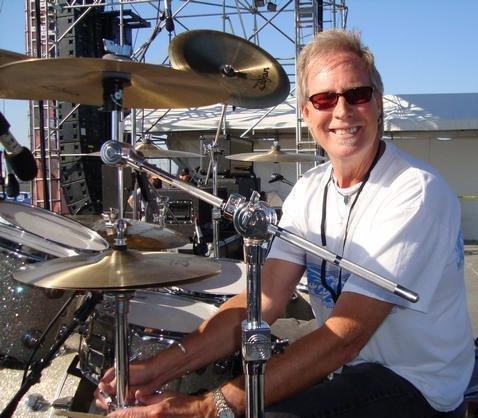 Jimmy started into music at an early age by playing the drums, and performed with a band during his high school years.  In the late 70's he moved to Nashville, Tennessee where he has performed with such great artists as: Leon Russell, Edgar Winter, Tanya Tucker, Ray Sawyer (of Dr. Hook), Keith Steagall, Deborah Allen, Marie Osmond, Dan Seals, Willie Nelson, Hank Cockran, Tom Wopat, Tommy Rowe, Sonny Throckmorton, Kieran Kane, Dobie Gray, Bruce Channel, Delbert McClinton, Steve Winwood, David Ball.
Jimmy toured with Brooks & Dunn up until June of 1995.  While touring with them they traveled to Switzerland.  Jimmy has toured extensively in the United States and Canada and has traveled to Europe and Russia.
In Addition to Touring, Jimmy has several movies and made for TV movie soundtracks credits and appearance to his name.  Most notably is "Scandal in A Small Town" starring Rachel Welch, "Hank Jr., Living Proof", "Running Mates" and "Ruckus".
While working with Brooks & Dunn, Jimmy has appeared on several Music Award Shows, and has made commercials for Miller Beer Company, and appeared in the movie "8 Seconds".
Jimmy has appeared on several issues of "Country Song Roundup Magazine" for Pearl Drum Company.
The composition "Is It All A Illusion" and "Where'd You Come From" were co-written by Jimmy for the movie "Running Mates".
Jimmy has recently had an R & B cut on Donny Kees CD which he co-wrote with Donny titled "You Can't Stop Me From Loving You"
His varied career has also included a publisher's assistant, song plugger, writer and musician for Don Gant Enterprise, and over the last few years Jimmy has owned and operated a company with Don Gant's widow, Lynda Gant, named G & G Music Group, where they have had cuts by George Straight, Garth Brooks & other.  Jimmy & Steve Busch Co-Produced a project on Jimmy a few years ago and over the last few years Jimmy has been teamed up with partner Pat Robinson in California where they've become a great writing & production team.