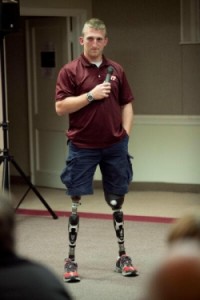 Special Assistant to the President

Rob Jones is a retired Marine combat engineer, serving between 2006 and 2011.  He deployed once to Habbaniyah, Iraq in 2008, and once to Delaram/Sangin, Afghanistan.  During his 2010 deployment to Afghanistan, he was hit by an improvised explosive device, resulting in double above knee amputations of both legs. He spent time in recovery at National Naval Medical Center, Walter Reed Army Medical Center, and the combined NNMC/WRAMC hospital, Walter Reed National Military Medical Center.  The first year of his recovery was documented in the short documentary film, "Survive. Recover. Live," winner of the Sgt William Genaust Award from the Marine Corps Heritage Foundation, and Best Short Documentary from the GI Film Festival. He was introduced to the sport of rowing in early 2011, and went on the win a bronze medal in the mixed double scull event in the 2012 Paralympics in London. His future plans include competing at the 2013 World Rowing Championships in Seoul, South Korea, and cycling across America to benefit charity. Rob joined the Coalition in March 2013.
Read more about Rob's incredible story – click here.