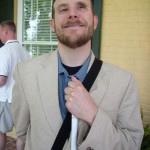 Mr. Timothy Hornik is a medically retired Army officer and holds a License Masters of Social Work in the state of Kansas. He strives to assist other Veterans and their families cope and overcome the barriers created by disabilities. He currently serves his fellow Veterans as a Field Service Representative in the Eastern Region for the Coalition to Salute America's Heroes.
Mr. Hornik served in the Army from 2002 until he medically retired as a Captain in 2011. He survived a head shot from a sniper while deployed with 1st Cavalry Division in support of Operation Iraqi Freedom on November 11th, 2004, causing his blindness. He successfully managed to remain on Active Duty for eight years, serving primarily in program management and operations assignments.
In 2002, Timothy received a Bachelor in Liberal Studies from Viterbo College and commissioned from the University of Wisconsin La Crosse's ROTC program. In 2010 Timothy earned a Masters of Social Work from the University of Kansas, and was awarded the Margo award for clinical practice. Staying involved within his community, he volunteers at his local VA medical Centers, elected as President for the Kansas Regional Group of the Blinded Veterans Association, board member for the Statewide Independent Living Council, and Director of Veterans Affairs for the University of Kansas Alumni Association's Veterans Chapter. He is also a member of the National Association of Social Workers and numerous other Veteran Service Organizations.