America's Little Helpers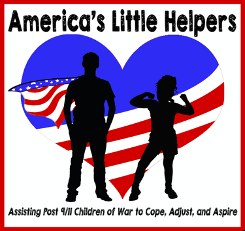 We are so pleased to announce the launch of our new program to assist children of wounded veterans, injured in the global war on terror, to cope, adjust and aspire.
Since the start of the global war on terrorism that led to a massive commitment in Iraq and Afghanistan, tens of thousands of wounded and disabled American service members have been required to leave military service. Burdened by debilitating physical and psychic injuries, they left to search for productive places in the civilian world where camouflage was no longer the uniform of the day. Their families left military bases, they once called home seeking to establish new lives across the nation. This transition entailed a dramatic change of lifestyle for the veterans and their families who were accustomed to the all-embracing web of military life.  
"The brave men and women, who served their country and as a result live constantly with the war inside them, exist in a world of chaos," said Robert Koger, Vietnam veteran who has written about the turmoil they experience in "Death on My Watch," Kinderkid Threat" and other works. Koger notes that the effects of PTSD (post-traumatic stress disorder) and other war related injuries impact not only the veterans but also their spouses and children – sometimes called secondary PTSD. "Secondary PTSD results from having knowledge of a trauma experienced by another individual and the stress from extended exposure. Secondary PTSD is nearly identical to PTSD except the exposure to the critical incident is indirect."
This is why we want to help, so we launched our newest program, America's Little Helpers, aimed at the children of wounded veterans.
Mission Statement: 
The mission of "America's Little Helpers," similar to the Coalition's Caregivers Alliance, is to provide the children of wounded and disabled veterans with resources, support, and outlets to help them cope and thrive while living with the effects of their parents mental and physical war wounds.
With future growth our goal is to provide these brave kids with outlets such as in-person and online education support, virtual and in-person art therapy, day camps and multi-day retreats. Other types of therapy are equine, music and recreation. The strongest form of support for these kids is creating opportunities for them to bond and form relationships with other children of wounded veteran families.
For general information or interest in joining the program, please email americashelpers@saluteheroes.org.
"The Soft Launch of ALH was everything I expected and MORE! These children and young adults are funny, intelligent, and resilient. They are often little caretakers themselves, carrying such a heavy load. For this hour of time, they were able to kick back, relax and do something just for them! With kids just like them. It was a blast to sit back and watch walls come down and relationships build. At ALH it's our goal to offer these outlets to build friendships, coping skills, and memories for a lifetime AND that's exactly what began at our launch." – Tiffany Steinmann, Director of America's Little Helpers