I was born at the Marine Corps Base at Quantico, Virginia. My father, MSgt. G. A. Sload, served our great country in the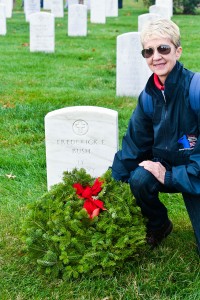 USMC for over 20 years. He joined when he was just 17 years old and "The Corps" became his family. Most of my Dad's deployments occurred when I was very young- he was stationed in Michigan, North Carolina, and California. But I do remember as a 3rd-4th grader, as a young child, how difficult it was for me to have my Dad deployed for 18 months; other children had their dads but mine was far away in Okinawa. I received letters and photographs regularly that helped my Dad seem not so far away. When he returned, we were so happy to see him but we had to adjust to being a family again. My Dad was deployed one last time- this time to Philadelphia where he spent his last 2 years in the Corps before retiring in 1967. He did not want us to live there so he came home every weekend by train to be with us in Fredericksburg. Through the years my Dad instilled in me the importance of family- our family and our Marine Corps family. When he passed away in 2008, my Marine Corps family was there for me and has been ever since.
I started fundraising on my own back in 2010, the year Rob Jones was injured. Rob was from Lovettsville so we needed to honor him in some way, for his service. I decided a great way to do that was to place a brick at the Marine Corps Museum in his honor. I wrote letters asking for donations from friends and local businesses. The response was overwhelming! People really wanted to be a part of honoring Rob. I collected enough donations to have a brick placed for Rob and his buddy, Daniel who was also injured, plus had almost $300 leftover to give to Rob. This was great! Rob's Mom called me and said "We know each other. You had Steve, Rob's brother, in your preschool class". Small world, isn't it? Since then I have raised money for bricks to be placed at the Marine Corps Museum for Tony Porta and his two buddies Kenneth and Charles who lost their lives the day Tony was injured in 2007. That campaign was so successful we had $1000 left over to give to Tony and his young family. I also helped raise $1000 for Rob's bike ride with the help of family, friends, and local businesses, on both sides of the Potomac, with donation containers. Last fall I joined forces with Darcy Shayka, owner of Lovettsville Style & Shave, for a 9/11 fundraiser which was very successful. We have more fundraisers in the planning stages. I think I have found my calling- fundraising for our Veterans!
The Coalition to Salute America's Heroes reminds me so much of the USMC. They are one big family, helping one another whenever possible and always showing support for one another in much the same way; it is an "I got your back" mentality. It is an honor for me to be a volunteer with The Coalition- to spread the news and help in any way I can. This is my way of honoring my Dad and all our Veterans, past, present, and future. I have been blessed to have met some awesome men and women, working beside them at fundraisers and various Coalition events. The future looks bright for The Coalition and I am so thankful to be a part of it.
Bonnie S. Tyrrell
Semper Fi