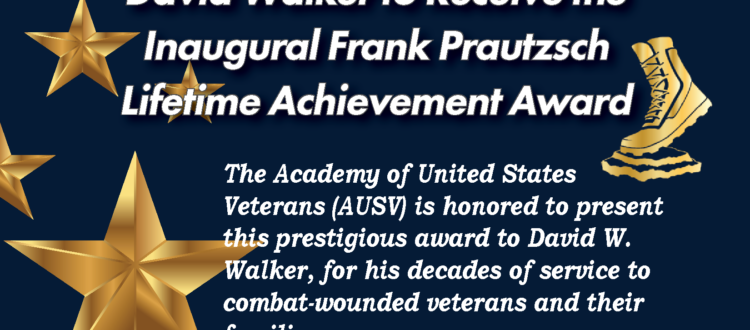 Leader of Coalition to Salute America's Heroes honored for decades of service to combat-wounded veterans and their families
WASHINGTON, D.C. – Academy of United States Veterans (AUSV) is honored to present Mr. David W. Walker of Lovettsville, Virginia with the Frank Prautzsch Lifetime Achievement Award. The award will be presented to Mr. Walker at the 7th Annual Veterans Awards, taking place in Las Vegas, NV on January 22, 2022.
Frank Prautzsch Lifetime Achievement Award is to be the most prestigious recognition of excellence in public service within the veterans community. It rewards the achievements and contributions of public service by an individual that leads to a more effective and responsive public administration in every corner of our land. This award is presented to an individual with philanthropic involvement for a minimum of 20 years. It honors those with a proven record of exceptional public service who continue to demonstrate outstanding civic and charitable responsibility. The award seeks individuals whose community service and leadership encourage others to take such roles in philanthropic activities across the globe.
This award is to honor extraordinary distinction in lifetime achievement and exceptional contributions to the military community and beyond.
Read more HERE