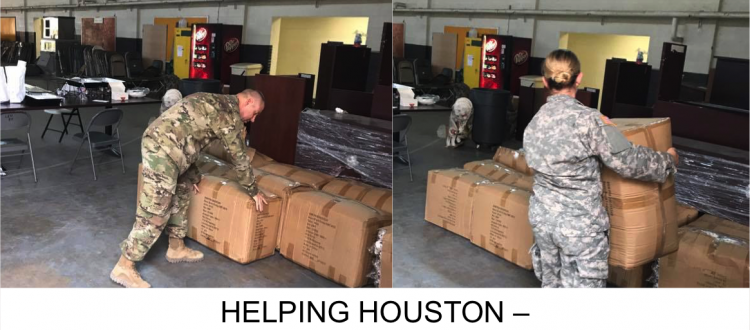 All of us at the Coalition are shocked and saddened by the horrific destruction caused by Hurricane Harvey along the Texas coast and beyond.
We are working behind the scenes to prepare to support the veterans in the affected area.  We have started a text to give campaign where the proceeds will be used for emergency aid and assistance.  To support our heroes that are dealing with Harvey- please text the phrase HoustonVets to 41444.  We will continue to update this website and our Facebook page with more details on how we are helping and ways to get help if you need it.
In addition, along with our thoughts, prayers and the above, we just donated $2,500 to Operation Once in a Lifetime, which will cover the cost of half of the 500 blankets being distributed to military families in need during this crisis.
"We are honored to do our part, in partnership with the National Guard, to support the disaster relief efforts in Houston," said David Walker, CEO of the Coalition to Salute America's Heroes. "This is a time when all of us must come together to help our brothers and sisters in and around Houston, so we are getting involved in ways both large and small as best we can during this difficult time."
Patrick Sowers, who is organizing the Operation, commended the Coalition: "We have worked with the Coalition for many years through their Emergency Financial Aid program and, true to form, when we asked for their help with this relief effort, they didn't hesitate to step up and give generously. We are very grateful for their partnership and for everything they do for our military veterans and families every single day."