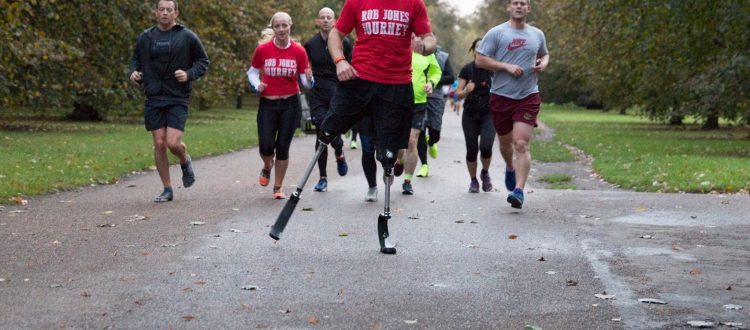 The Month of Marathons is now complete!  Rob Jones ran 31 marathons in 31 days!!  Starting in London and ending in Washington DC on Veterans Day, this amazing journey, raised awareness for the needs of America's veteran population.  You may remember Rob from when he rode a bicycle from one end of the United States to the other.  That effort was incredible, this one is as well.  We are honored Rob chose us, along with two other tremendous charities (Semper Fi Fund and Tunnel to Towers Foundation) to benefit from his efforts.
We will have continuing coverage of Rob's run on our Facebook page, please like us and follow along!
Rob has all the coverage on one page on his website, including the awesome daily "Pam Cam!"  Click here to view!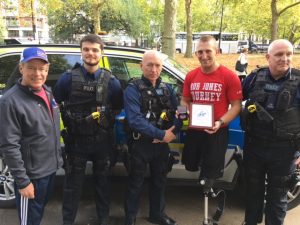 Rob Jones Journey: Month of Marathons
In the winter of 2013-2014 I set out on my bike and cycled across America raising money for wounded veteran charities.  I named this ride the Rob Jones Journey.  I am excited to announce today that in the fall of 2017, I intend to complete the next leg of this journey with a new challenge.  This challenge will require me to run 31 marathons in 31 consecutive days in 31 different major cities in America and abroad.  I choose 31 because I want to complete a full month of marathons.  The way that this will work is that I will wake up in a city, run a marathon, travel to the next city, and repeat until I am finished.  These marathons will be undertaken on my own, and will not be run during any organized marathons, unless my schedule coincides with one of these organized runs.
I will have several objectives for this challenge.  First, I am always seeking to improve myself both physically and mentally, and this is best achieved through struggle.  Such an undertaking will demand deeds of fortitude, endurance, and perseverance, both in the physical realm, and also in terms of the mind.  I hope that through these deeds I will become a better version of myself.  And by being so, improve those around me and encourage them to do the same.
Second, with the Rob Jones Journey, I set out to raise $1,000,000 for wounded veteran charities.  As of now, $125,000 has been raised.  This leaves me with $875,000 left to go.  I will continue this endeavor with the marathon challenge.  I will be supporting the Coalition to Salute America's Heroes, the Tunnel to Towers Foundation and the Injured Marine Semper Fi Fund.
Third, I hope to raise awareness concerning the struggle of America's veteran population.  A recent VA study estimates that twenty veterans from among every generation commit suicide every day.  It is a tragedy that America is losing this many of its finest people, and we need to do all we can to halt these losses.  Not only do I intend to raise awareness of this issue with the civilian population, but I intend to raise awareness in the veteran population as well.  I intend to show veterans through the amount of support that I personally receive throughout this challenge that America loves her veterans, and the American people love their veterans, and want to help and support them.  I mean to show my fellow veterans that they are not alone, and only need ask in order to receive all of the support that they need.  By running in both London and Toronto, I plan to also raise these issues in the populaces of America's allies that I have fought alongside, and who face these same issues.
Fourth, I hope to incite action among our citizenry.  It is one thing to be aware of an issue, but to make a considerable contribution is on the next level.  I hope that by setting an example, I will inspire others to follow in my footsteps, and make sacrifices of both time and effort toward a cause in which they believe.  It doesn't matter what the cause is specifically, as long as the person is contributing with full dedication.  There are over 300,000,000 Americans, and if each one of us were to dedicate ourselves to a cause, many of our country's problems, for example homelessness and starvation, would be improved to the point of elimination.
I received overwhelming support during my bike ride, and am incredibly thankful for the encouragement and sacrifice that others have given me so far.  I am looking forward to making even more friends, and being influenced by even more generous individuals as I proceed on this next challenge.  I have many details left to iron out, and will be updating as I find solutions.  I will also be encouraging people to join me on this journey either by running along with me, or with support from afar.  I do not expect everyone to run a full marathon, but I do expect everyone to run a distance that challenges them whether that is 5k, 21k or 100 feet. veteran