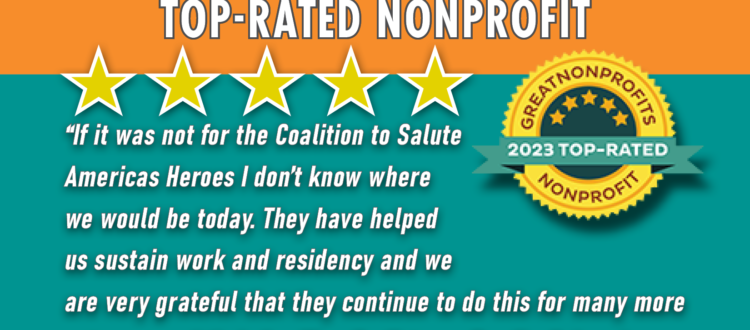 Donors to the Coalition can give with confidence knowing we follow the strict guidelines of the BBB and have received awards from GuideStar, GreatNonProfits and qualify for the CFC year after year.
The Coalition received formal approval for the 2023 Combined Federal Campaign (CFC). This is now the eighth year running we've been stamped as bona fide by the CFC – another favorable stripe of accreditation.
The mission of the CFC is to promote and support philanthropy through a program that is employee focused, cost-efficient, and effective in providing all federal employees the opportunity to improve the quality of life for all. To request a CFC Charity List and/or a pledge form, please contact your local CFC office. Our Campaign Locator will assist you in identifying the CFC office where your official duty station is located.
CFC is the world's largest and most successful annual workplace charity campaign, with almost 200 CFC campaigns throughout the country and overseas raising millions of dollars each year. Pledges made by Federal civilian, postal and military donors during the campaign season will support eligible non-profit organizations that provide health and human service benefits throughout the world.
Coalition to Salute America's Heroes CFC #12523
The Coalition earned the 2022 Gold Award for our commitment to hiring veterans. The Honoring Investments in Recruiting and Employing American Military Veterans Act (HIRE Vets Act) Medallion Program is the only federal award program that recognizes job creators that successfully recruit, hire, and retain veterans.
 About the Coalition to Salute America's Heroes
For the thousands of seriously wounded veterans in Afghanistan and Iraq, the struggle to overcome the challenges in their lives caused by the injuries and illnesses they sustained in combat is one that must be endured every day.
The Coalition to Salute America's Heroes was established to ensure that in return for the sacrifices they made for us, these wounded veterans and their families receive all the support needed to restore their hope and rebuild their lives.
Founded in 2004 as a non-profit, non-partisan 501(c) (3) organization, the Coalition is among the nation's leading charities whose donors provide the wounded veterans and families of Operation Enduring Freedom, Operation Iraqi Freedom, and Operation New Dawn the aid and assistance needed for their long roads to recovery.