Felix Garcia was born in Texas, but grew up in Florida where he graduated from Hardy County High School before joining the Marines in 1992. An infantryman, he would serve in the Corps for more than 13 years, including two tours in Iraq,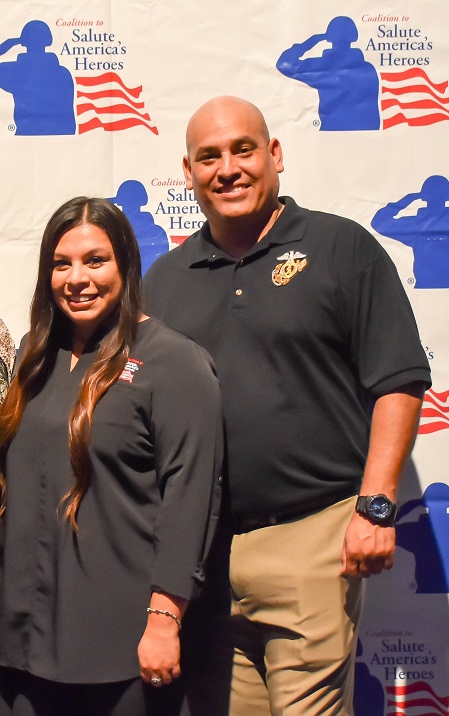 before retiring in 2006. When the suicide bombers attacked the World Trade Center and Washington, he was incensed and eager to get involved.
"When 9/11 happened it was 5 a.m. for us on the West Coast," Felix said. "I was just getting ready to go out for a run when I got the news. It really hurt that they would strike our land. And it was very hurtful to see the troops from the East Coast go off to war while we were left here. Finally, in 2003, my unit was sent to Iraq. It was the best time in my life. I was excited to go like a little kid at the candy store waiting for candy.
"During my first tour, I was there about 11 months. We were shot at all the time. I lost some friends. It was hot. When we first got there in January it was hot, but by the summer, we were really hot. We were hoping for any kind of cold stuff. It gets up to 110 or 120 degrees over there. Then add 15 degrees for the flak jacket. In that situation, it is really hard to keep water in your body. We had liquid coming out of our mouths, our ears. We were on IVs. I had no liquid in my body and hence no strength. That happened to a lot of us.
"During that tour, we sometimes ran out of food and water because the supply situation was not good. We had to make do with what we had. Eventually we started taking water out of the Tigris River. We treated the water of course. As a squad leader I would get one water bottle, fill up my canteen, and keep other bottles in my bag to share with my troops.
"When you lose guys in combat, it is very hard to deal with. I still see them every day. I remember them every day and their memory will always be with me. It is hard, but it is part of your life. I will always remember my Marines. They have a special place in the Marine Corps and with us. "I came back to the States in November to Twenty-Nine Palms, California, and was home about six months.
From there I went to Camp Pendleton, and by June I was back in Iraq for my second tour. This time around I had a brand new bunch of Marines. All they knew about combat is what we had been training for. We were in a convoy, armed to fight and we started taking pot shots. The new guys are all excited that we're getting shot at. We get to the camp, and as we are getting out of the vehicle, I yelled orders at my Marines to get out of the truck. Just then we hear a mortar round coming in. These young guys are just standing around. I had to yell at them to take cover. It made me realize, that these young kids with fresh minds know nothing about combat. They are like innocent virgins, and here I was on my second tour. I did not really realize that until the first one went down.
"I was wounded on August 22, 2004. I was medevac'd to Battalion Aid Station. But the war went on. I healed and came back to the platoon. We are out on patrol constantly sweeping every house looking for bad guys. There were nasty firefights here and there. You start thinking, when is it my turn? I just wondered when it would happen. But when you are in a combat situation your guys become your family, you have to take care of each other, they come first.
"We were part of Operation Phantom Fury. On November 9, we were clearing houses in the center of Fallujah near the cemetery. We cleared that area and it was hard work. That was the worst fighting of either Iraq or Afghanistan. We were going through the city when we got ambushed from the rear. I heard a rocket propelled grenade (RPG) coming in. I zigzagged, I heard it so close. It landed right in front of me, coming from my back. It blew up. I took shrapnel. I took second-degree burns in my face. I was peppered with shrapnel.
"A fellow Marine took an RPG in the chest, but it didn't blow up. He was out for hours. I was bleeding. My guys were getting hit right and left. We medevac'd them out and then the fight got really intense. Snipers were firing on us. We could not get artillery or air support. We tried, but they said no because we were in the firing zone. At the time we did not care. It was getting that bad. We figured bring it on, some of us will survive. We ended up having to fight our way out.
"When I was discharged from the Marines and returned to Florida, we were struggling. I was living on my VA compensation and waiting on my Social Security benefits. I could not pay my rent. We were in a real bad bind. That's when the Coalition to Salute America's Heroes stepped up. While we were waiting for my benefits to kick in, the Coalition paid rent, utility bills and other expenses for two months. Eventually, they helped us some more by giving my wife a job.
"It was hard for me coming back to get acclimated to peacetime. But I figure if I want my kids to do good things, I have to suck up my problems. I have a problem, but it's okay. You have to deal with it for your children. Today, I do a lot of volunteer work with other guys who are wounded. I can reach them because I know what they are going through." ★