"April 4, 2004, was the day I got shot and died." So begins the saga of Jimmy Batchelor, a U.S. Army veteran of whom it can safely be said he has been through the wringer. Just out of high school, he spent three years working at Walmart – assembling bicycles, appliances and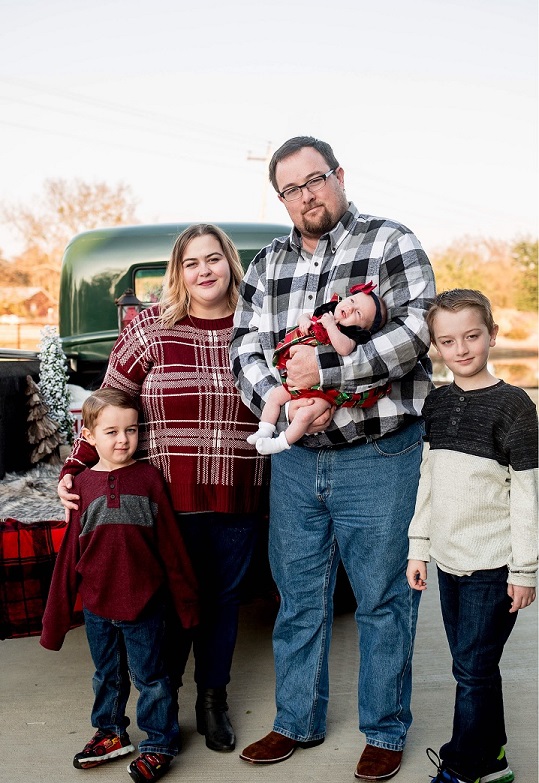 other things – but found the routine boring. He enlisted in the Army on August 21, 2001, and was in training when the attacks on the World Trade Center occurred. Like his compatriots, he was incensed by the assault on his country and ready to do his duty against the assailants.
But first he was off to Korea, a regular cycle for new soldiers becoming accustomed to military life. While there attending to routine duties, he found a pen pal, a woman in New Zealand named Antoinette, who would loom large in his future, but he had no way of knowing that at the time. In fact, he got married in 2003 not long before he shipped out for Iraq arriving April 4, 2004, known forever after to those who were there as Black Sunday.
Jim's timing could have been better. He walked into a firestorm in what would later become known as the Siege of Sadr City that would last over four years. Eight U.S. troops were killed on the first day of fighting and another 51 were injured. "My boots didn't even have tie to get dirty," Jim said. "I was there four days when I got shot in the head. Right between the eyes, but somehow I kept firing my SAW (squad automatic weapon) for six hours. All the time I had a bullet protruding from my forehead. My skull collapsed around the bullet and stopped it. You could see the back of the bullet sticking out. A medic put a patch on it and I kept shooting."
Later when he was being shipped out for medical attention on a helicopter, Jim was pronounced dead by attending medics who could detect no heartbeat or respiration. This could have been the result of an overdose of morphine. He was being zipped up into a body bag when he woke up and refuted the rumor that he was dead. "Few things will bring you closer to God than dying," Jim says, with his customary good humor.
He was then transported to the Landstuhl Regional Medical Center in Germany for initial evaluation before being sent back to the states. He was later diagnosed with post-traumatic stress disorder (PTSD) and a traumatic brain injury (TBI) as a result of his injuries, mainly the bullet in the head (which he still has as a keepsake). The post-traumatic stress combined with his constant headaches, memory loss and light sensitivity have made it impossible for Jim to work. An early casualty of Jim's wounds was his marriage. "Our marriage didn't last," he said. "She said you are not the same person I married and she was right. I had violent mood swings. I felt guilty being alive when so many of my friends were not. I still have trouble with that one. I could not make it work in my head. It's called survivors guilt and it is fairly common. I took it out on her. Our marriage lasted less than a year. I told her to keep the house and the car, leave me the dog."
Jim ended up living hand-to-mouth in an empty house with no furniture other than a moldy couch and a small TV. He had begun the application process for his benefits with the Veterans Administration, but somehow they kept running off the track. "I would miss an appointment or forget to fill out a form, and every time that happened everything went back to square one and I had to start all over. They kept me jumping through all these hoops." Jim says it took almost two years for him to get his benefits – he is 100 percent disabled – but it is easy to see how he fell by the wayside in the VA bureaucracy.
So there he was with no income, no car and no wife and by his account he was becoming suicidal. Fortunately, by this time, the VA had become more attuned to the unique challenges facing veterans and had more aggressive policies in place to help them through the process. Jim was assigned a Wounded Warrior Advocate named Tamara U. who helped him work through the VA process.
Then an advocate for the National Organization on Disability, put him in touch with the Coalition to Salute America's Heroes. Soon a woman from the Coalition was at Jim's door, assessing his needs and shifting into action. "I ran her off time and again because I really didn't want to deal with anyone, but she kept coming back," Jim said. "I had no heat in the house. She helped me get propane to work the furnace. I had no food, so she brought me groceries. I had no bed and she found me one. They gave me a dresser to put my clothes in, and fixed my roof that was leaking like a sieve. That's how I got to know the Coalition. They got me on my feet again and would not permit me to withdraw from life."
Antoinette Batchelor
But without question the most important agent of Jim's recovery was his New Zealand pen pal who continued to communicate with him and eventually came to the U.S. to visit. They fell in love and married soon after. Today they have two beautiful little boys and are doing well as Jim slowly contends with his lingering disability.
"I don't know what I was doing on April 4, 2004," Antoinette said. "I was all of 16 years old. I'm sure most people on my friends list couldn't tell me where they were on April 4, 2004. My children were not yet born, and wouldn't be for another six years. They are growing up in a world where April 4, 2004, was the distant past. And yet…echoes of that day ring through our lives and will forever. Ghosts of that siege sit with us at dinner each evening and join my husband in his dreams at night. They will never be far from our family. If you have ever met my husband, you have met those ghosts. They travel with him everywhere he goes. They are part of who he is now, they are part as much a part of him as anything is a part of him. The aftereffects of that day will be with my husband his entire life, they will be with my children their entire lives, and probably their children. And yet we are blessed because all these years later despite the fact that the war has never ended my husband woke up this morning."
But the demands of two little boys plus Jim's impulse control problems and inability to be left alone for prolonged periods of time simply made it impossible for Antoinette to hold down a job with normal working hours. Here again the Coalition came to the rescue, hiring Antoinette to work for its Heroes Thanking Heroes program. "Heroes Thanking Heroes means I can stay home and look after my husband while still feeling like a contributing member of our family," Antoinette says. "I don't have to worry about him getting lost on the way to appointments or injuring himself attempting to do things he no longer has the ability to do."
As for Jim, he's working his way back slowly. "I acquired a degree in criminal justice," he said. "I joined the Civil Air Patrol. When you have a brain injury you have to keep motivating yourself. If I don't, I slow down. I am terrified of slowing down."
He has not had success re-entering the civilian workforce. "I am okay as long as I am by myself," he said. "But with most jobs you have to be there. The stresses of working with other people can put me over the edge. It's not like in the military. Civilians would accomplish a lot more if they learned to work together as a team, not against each other."
Jim adores his little boys, but with them too he must allot his time carefully. "Antoinette is the main caregiver for the kids," he said. "I can only be with the boys a few hours and then I have to step back. They are still young and haven't noticed a problem yet. That day will come, but not today."
Jim derives great pleasure and satisfaction being reunited with other wounded veterans at the Coalition's Road to Recovery and Tribute, usually held at a nice resort where veterans' families can kick back and enjoy themselves. "They are my brothers and sisters," Jim said. "We've all been through it and know what it's like. I don't have to pretend anything around them. I come away stronger and more committed to life."