Kevin Hanrahan's father was a Marine which was a major influence on his decision to join the Marine Corps on March 10, 2008. Kevin went through basic training at Parris Island, South Carolina, like most recruits from the eastern part of the country do. Kevin and Whitney have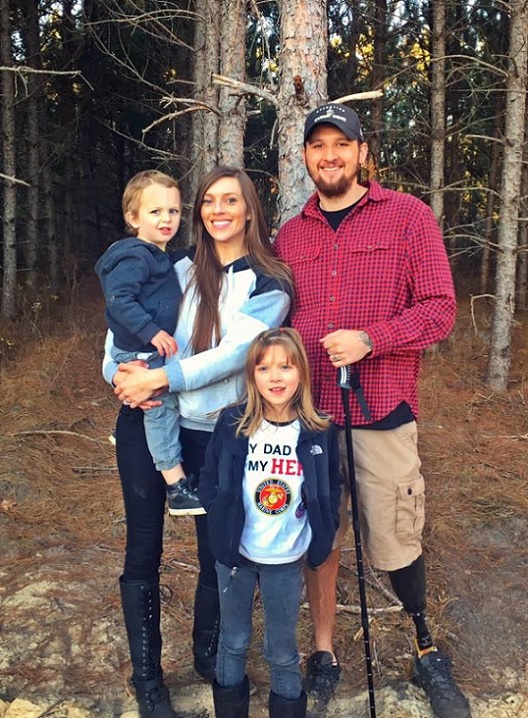 been married nine years, six of which Kevin spent in the Marine Corps. Today they have a daughter Riley, aged 8, and a son Kayden, aged two. Their daughter Riley was born right before Kevin's first deployment. "I got there a day before she was born," Kevin said.
Kevin got to see a good bit of the world as a Marine. In his first deployment he spent time in 11 different countries. During his second deployment he was sent to Haiti during one of that nation's periodic crises. After each deployment Kevin rotated home to spend time with his wife and family, wondering that his next assignment would be. He was of course well aware that a combat assignment would inevitably come up. On his third tour, he was posted to Afghanistan in March 2011.
"We were in the Helmand Province clearing out areas of operation," Kevin said. Kevin was a machine gunner. His basic job was to walk about the disputed countryside looking for Taliban insurgents. He was in the country for five months out on a foot patrol when he stepped on an improvised explosive device (IED).
"He lost his left leg and the entire back of his right thigh causing permanent nerve damage and a drop foot," Whitney said. "He also has double vision from a fractured eye socket, a back injury, a traumatic brain injury (TBI), and seizures."
Kevin received preliminary medical treatment in Afghanistan and was airlifted out to the U.S. medical facility in Germany where most injured soldiers and Marines are sent. "I was in Germany for about a week and then flown to The Walter Reed National Military Medical Center in Bethesda, Maryland. I was there almost three years."
Kevin was fitted with a prosthetic leg on his left side and has had more than 50 surgeries on his right leg. "I'm still having problems with my right leg," Kevin said. "I still might lose it. They are trying to rebuild it, but it's a challenge."
"Riley and I stayed with him all that time, doing what we could to help him through what proved to be a long, arduous and painful process. We lived just across from the hospital. We were there at his side every day," Whitney said.
"It was a pain in the butt living in that hospital. The doctors were great but the Marine Corps made things harder than they needed to be. It was rough. I couldn't wait to get out of there. But I have to say the doctors were great. Overall, I have had good medical treatment."
Kevin had wanted to make a career of the Marines, but it was not meant to be. "I wanted to stay in the Marines but they told me there was no way I could do what I wanted to do. It wasn't worth it at that point. A desk job would not have suited me. I always appreciated the infantry role, always on the go. I was always doing something. I am not the type to sit still.
Kevin formally retired from the Marines on December 30, 2013. He is on 100 percent disability with his left leg gone and his right leg being salvaged. "There's not much there anymore," he said. "They call it limb salvage."
But being at the Walter Reed medical facility made it a lot easier for Kevin to manipulate the often confusing Veterans Administration pension process. "The fact that I was at Walter Reed helped me out applying for benefits," he said. "I moved along smoothly in the process. Otherwise it would have taken at lot of time. I talked to other wounded guys who had been through it. They helped guide me through the system."
Today, Kevin and Whitney lived in Eau Claire, Wisconsin. They are both from the St. Louis area but Kevin's father and grandparents live in Wisconsin. They are building a house out in the country near wooded land which enables Kevin to go bow hunting for deer. "Mostly for deer," he said. "I clean it, I do it all myself. My leg problem makes it difficult, definitely more difficult than it used to be."
To the extent possible, Kevin strives to live a normal life. "The hardest thing has been the brain injury, more than anything else," he said. "I try to lead a normal life to the extent I can. Hunting is a way to get out alone and have peace with myself. Instead of a wheelchair I have a track chair that helps me get about in the woods without too many problems."
Kevin cleans the deer he kills and brings them home where he and Whitney make them a dinner staple, saving money on groceries. Unfortunately, bow hunting season for deer lasts only from the end of September to the first week of January so the deer have to last a long time.
Through a mutual friend, Kevin and Whitney learned about the Coalition to Salute America's Heroes. They did not need the Coalition's emergency financial aid as many returning veterans do, but Whitney needed a job she would work from home. Today she is working for the Heroes Helping Heroes program. "I can stay at home and take care of him,' she said. "Also we have two small kids at home. Being able to work at home enables me to take care of them."
They are looking forward to moving into their new house. "We will be out in the middle of the woods," Whitney said. "The kids can play in the woods. There will always be deer to eat."
Kevin is working to surmount the injuries to his legs, but the TBI is another matter. "I have trouble sleeping," he said. "I have other issues. I can't handle crowds. I prefer to keep to myself. We don't do a lot of vacations. I hope in time that will get better. I am trying to get back into the swing of things."
Kevin is planning to return to school and get a degree in some medical field, though he hasn't yet decided which one. "I have several ideas," he said, adding that he does not regret his service in the military. "I would do it again in a heartbeat," he said.