Chairman of the Board
Matthew Cary was appointed Director of the District of Columbia Office of Veterans Affairs by Mayor Vincent C. Gray in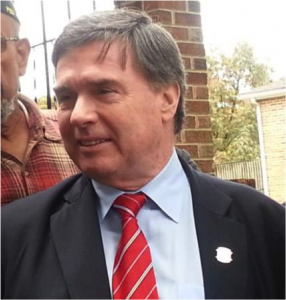 April of 2011
and was unanimously confirmed by the Council of the District of Columbia on June 7, 2011. During his four years in office, he initiated several new programs for DC Veterans and their families. They include: the Furniture Donation program for DC Homeless veterans and their families resulting in donations of furniture and household items valued at $1.5 million from several military installations which has been delivered to 500 District of Columbia homeless veterans moving into transitional or permanent housing. The new DC Veterans and Spouse License Plate program provides display tags to District veterans and their spouses who are residents of the city through the sale of tags by it's partner, the DC Dept. of Motor Vehicles. The Program has sold over 155 license plates and raised over $8,000 for the DC Office of Veterans Affairs Veterans Assistance Fund to assist DC needy veterans. The VALOR program is a Financial Literacy initiative providing debt management, credit management, financial planning, management, and budgeting counseling through classroom and on-line training to DC veterans. The Program has provided free educational training through it's Partners Financial Education Literacy Associates (FELA) and Bank on DC to over 200 District Veterans and their families. The fourth program is a Christmas Holiday Toy and Clothing Event for DC Military & Veteran Family children Ages 2 thru 18. OVA and it's partner AFL-CIO Helmut to Hard Hat organization provided toys and clothing to 80 children in 2013 and 180 in 2014.
Mr. Cary was instrumental in helping a senior staff member become accredited by the U.S. Department of Veterans Affairs as a certified Claims Officer to prepare and present DC Veterans disability claims to the VA. Since 2011, through Matt's leadership DCOVA has broken ground on 4 Affordable Transitional and Permanent DC Veteran Housing projects with supportive services providing over 190 units of housing for male veterans and 20 units for female veterans with children. He also developed strong partnerships with the Student Veterans of America National organization, Student/Veteran Campus Chapters of American University, George Washington University, Georgetown University, Howard University, UDC, Catholic University, Iraq/Afghanistan Veterans of America (IAVA), Vietnam Veterans of America, American Legion, DAV, VFW, AMVETS, and numerous other veterans service organizations.     The DC Office of Veterans Affairs has jurisdiction over 40,000 veterans and their family members and is recognized as a State Office of Veterans Affairs by the U.S. Department of Defense and the U. S. Department of Veterans Affairs. Mr. Cary has received numerous awards for public service from the National Association of State Directors of Veterans Affairs, Veteran Service Organizations, Non-profits and the Mayor during his current time as Director of the DC Office of Veterans Affairs. Matt is a Veteran of the U.S. Army Reserve during the Vietnam War and served 6 years from 1969 thru 1975 in a Combat Engineer Unit and the 354th Civil Affairs Unit.
Prior to his DC government appointment, Mr. Cary was a founding member and first President of Veterans and Military Families for Progress (VMFP), a 21st century 501©4 volunteer Non- Profit, Non-Partisan, Tax-Exempt National Veteran Service Organization. The Mission of VMFP is to Identify, Endorse and Elect Veteran and Military Family Candidates to Public Office at the federal, state and local levels of government, Advocate for policy and legislation that impacts veterans and their families and to Educate the g

eneral citizenry and media on the Coming Home Issues for veterans and their families. Through Mr. Cary's leadership, VMFP was successful in helping to get 51 Bills for veterans and their families through the 110th & 111th Congresses and signed into Public Laws.
From 1986 to his appointment in 2011, Mr. Cary was President and CEO of his own Government Relations and International Marketing consulting firm representing the interests of Public and Private sector clients with the U.S. Congress and Federal and State Governments and linking U.S. companies to foreign government projects in Water Treatment and Solid Waste Management.
Prior to starting his own small business, Matt was Director of Federal Programs for a Consulting Engineer Trade Association, Director of the New York State Washington Office for former Governor Hugh Carey, and as an employee of the U. S. Conference of Mayors was the Washington Representative to the Mayors of 7 cities ( i.e. Houston, TX, Buffalo, NY, Bayamon, PR, Riverside, CA, Sunnyvale, CA, Kenner, LA, and Richland, WA.). He was also a Legislative Director to a former New York Congressmen.
Mr. Cary holds a Masters Degree in Public Administration (MPA) with a concentration in Urban Management and Urban Planning from American University and a BA Degree in Social Science from St. Bonaventure University. He was elected Treasurer of the National Democratic Club in 2014 and he serves on the Board of Directors of Veterans and Military Families for Progress, and Sports Management Associates. He was also inducted into the DC Men's Adult and Senior Amateur Baseball League Hall of Fame in 2008.
Matt has been a resident of the District of Columbia for 45 years and currently resides in Ward 3 of the city with his wife, Dana. Matt and Dana enjoy global travel and have visited Japan, China, Vietnam, Thailand, Argentina, Brazil, Chile, Paraguay, Czech Republic, Ireland, England, Scotland, France, Greece, Italy, Spain, Iceland, India, and the Caribbean Basin. He is originally from Elmira, New York.