Honored to be a 2017 Top Rated Non Profit
We are honored to be named as a 2017 Top Rated Non Profit by the website GreatNonProfits
"We are excited to be named a Top-Rated 2017 Nonprofit," says David Walker, President and CEO of the Coalition to Salute America's Heroes. We are proud of our accomplishments this year, including our efforts to support veterans during Hurricane Harvey, several Feed The Children events, and of course our main mission of providing emergency financial aid. The Top-Rated Nonprofit award was based on the large number of positive reviews that the Coalition to Salute America's Heroes received – reviews written by volunteers, donors and clients. People posted their personal experience with the nonprofit.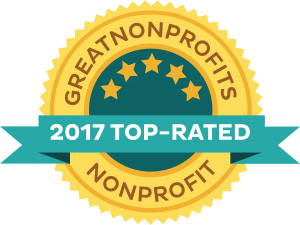 While the Top-Rated Awards run through the end of October, the Coalition to Salute America's Heroes was part of the inaugural group to qualify for the year.
"Savvy donors want to see the impact of their donations more than ever," said Perla Ni, CEO of GreatNonprofits, "People with direct experience with the Coalition to Salute America's Heroes have voted that the organization is making a real difference."
Being on the Top-Rated list gives donors and volunteers more confidence that this is a credible organization. The reviews by volunteers, clients and other donors show the on-the-ground results of this nonprofit. This award is a form of recognition by the community.
About the Coalition to Salute America's Heroes
For the thousands of seriously wounded veterans  n Afghanistan and Iraq, the struggle to overcome the challenges in their lives caused by the injuries and illnesses they sustained in combat is one that must be endured every day.
The Coalition to Salute America's Heroes was established to ensure that in return for the sacrifices they made for us, these wounded veterans and their families receive all the support needed to restore their hope and rebuild their lives.
Founded in 2004 as a non-profit, non-partisan 501(c) (3) organization, the Coalition is among the nation's leading charities whose donors provide the wounded veterans and families of Operation Enduring Freedom, Operation Iraqi Freedom, and Operation New Dawn the aid and assistance needed for their long roads to recovery.
About GreatNonprofits
GreatNonprofits is the leading site for donors and volunteers to find reviews and ratings of nonprofits. Reviews on the site influence 30 million donation decisions a year. Visit www.greatnonprofits.org for more information.